Regular price
Sale price
₹179.00
Unit price
per
Sold out
Taxes Inlcuded
View full details
ALMOND MILK - the CACAO story
Characters: Hazelnuts, Cacao, Almonds, Dates, Water
The Moral: The sweet Almond milk glazed with a Hazelnut flavor and rich in magnesium, strikes the anxious chord right for a healthy brain.
A useful tip:The new hot chocolate upgrade in town, especially for cozy monsoons and winters.
Please keep it refrigerated at the back side of your fridge. Please don't store it on the side shelves of your refrigerator.
Shelf life is 3-5 days from the date of manufacture. We make fresh batches everyday.
If you see that your milk is separated after a few hours, please be assured that it is natural and absolutely normal as it is free of preservatives, thickeners, emulsifiers and stabilisers. Please shake well before use.
Get the best pricing on larger packs.
Customise your delivery days between Tuesday to Sunday. Minimum 2 bottles per delivery and enjoy fresh milk delivered at your doorstep without the hassle of reordering.
Delivery in Delhi and Gurgaon only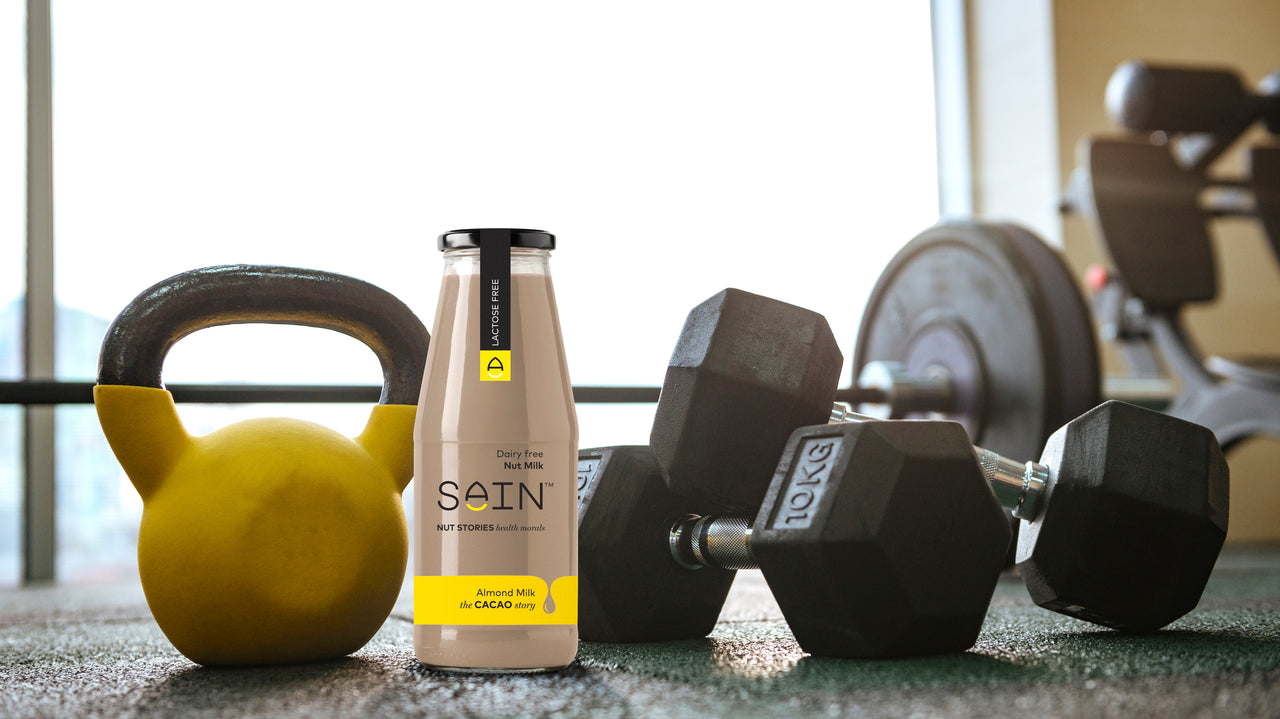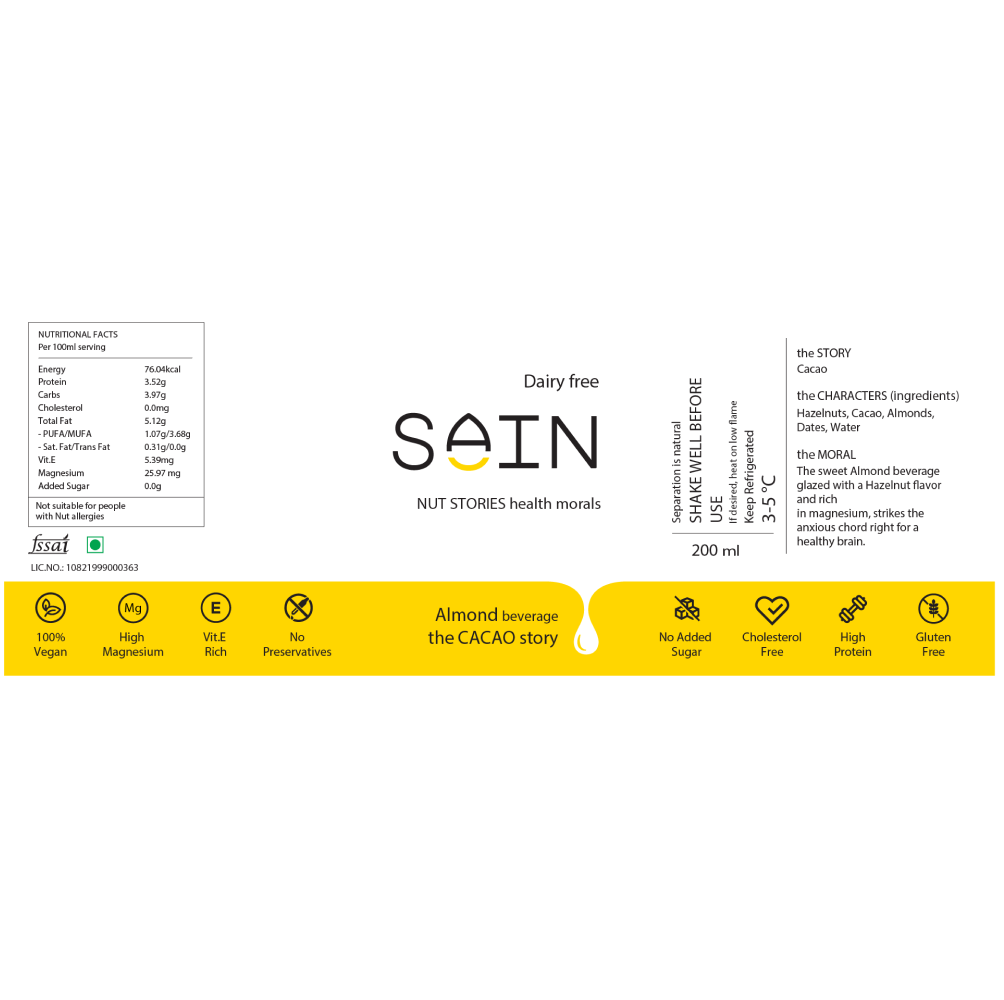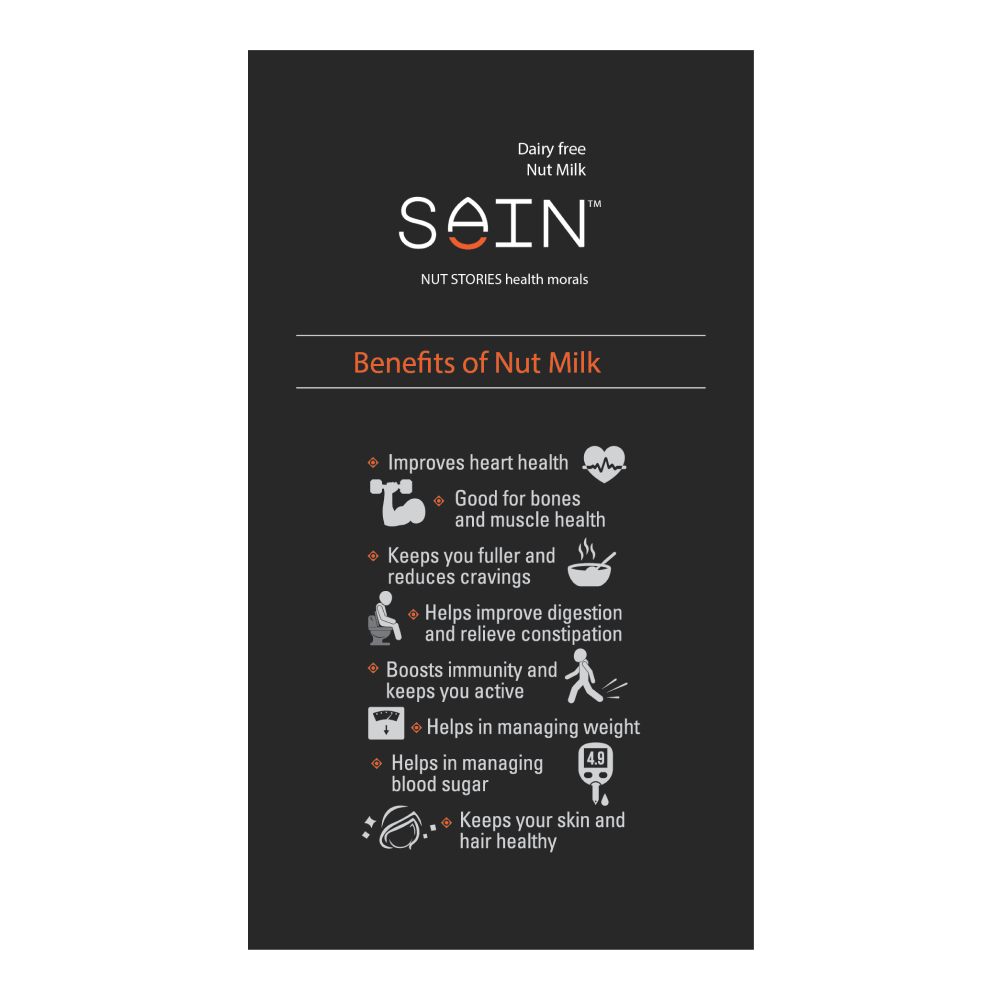 NUTRITIONAL GAIN PER 100 ML SERVING
| Nutrient | Units | Per 100 ml serving |
| --- | --- | --- |
| Energy | kcal | 76.04 |
| Protien | g | 3.52 |
| Carbohydrates | g | 3.97 |
| Cholesterol | mg | 0 |
| Vitamin E | mg | 5.39 |
| Magnesium | mg | 25.97 |
| Added Sugar | g | 0 |
| Total Fat | g | 5.12 |
| Saturated Fat | g | 0.31 |
| Mono Unsaturated Fat | g | 3.68 |
| Poly Unsaturated Fat | g | 1.07 |
| Trans Fat | g | 0 |
PERCENT DAILY VALUE INTAKE PER BOTTLE
Energy 7.98%
Protein 14.49%
Carbohydrates 6.41%
Cholesterol 0%
Vitamin E 49.21%
Magnesium 14.88%
Added Sugar 0%
Total Fat 16.54%
Saturated Fat 6.51%
Mono Unsaturated Fat 25.76%
Poly Unsaturated Fat 22.47%
Trans Fat 0%
RECIPES WORTH TRYING
our

HANDPICKED

recipes
WHAT THEY SAY
hear them

SPEAK
Harprit
Kaur
SAIN World's almond milk in delectable flavours is a healthy and refreshing alternative to cow milk - I was happy to see my kid finish the "cacao story" in two mins while I was still savouring the vanilla and cardamom flavours! I am happy with the quality and flavours offered! Highly recommended.
Shampy
Ratra
Received my first batch. Pleasantly pleasantly surprised with the high level of packaging and promptness of delivery. Coming to the product itself: Super taste and rich texture is what will keep me coming back. Don't think anyone offers so many flavours in almond milk (atleast here in India). Really enjoyed it. Tempted to be on the monthly plan.
Rupinder Kaur
Founder at Raw Rasoi
Tried four flavours. Very fresh, soft and creamy. Good to know that these nut milks will be available in market soon. Great initiative. Best of luck.
WHAT THEY SAY
SAIN
in media